About us
BuyRentKenya is the trusted real estate company that connects people to properties. Serving the Kenyan market, we use AI to match you with the real estate agency, private seller or landlord with the right property.
Top 5 reasons why people choose BuyRentKenya to search for real estate:
1. Be alerted to the latest properties first:
Even with filters, looking through the extensive range of real estate can be time consuming. Save time and be alerted as soon as a property that meets your needs hits the market or simply request your ideal home.
3. Deeply understand the market:
Whether it be through price indexes, market reports, real estate news coverage or estate agency directory BuyRentKenya brings transparency to the Kenyan real estate market.
4. Serious about security:
On BuyRentKenya every listing is verified to ensure its accuracy and authenticity. So you know when you reach out to the real estate agent or property owner, it's real.
5. Support at all stages of your property journey
Finding the right home is often the first step. We partner with mortgage banks home insurance providers, & moving companies to help smooth the whole journey of home ownership.
Awards & Memberships
2014
Best Internet Marketing Portal of The Year
East Africa Property Awards
2017
Best Online Real Estate Platform
Digital Inclusion Award
2017
Best Digital Real Estate Platform
The Kenya Real Estate Awards
2017
Property Portal of the Year
Real Estate 100 Awards
2018
Property Web Portal of The Year
The Kenya Real Estate Awards
2019
Best Real Estate Marketing Portal
Digital Tech Excellence Awards
2019
Best Real Estate Marketing Platform
Real Estate Excellence Awards
2020
Best Real Estate Marketing Platform
Real Estate Excellence Awards
2022
Property Marketplace of The Year
Kenya E-commerce Awards
2023
Best Property Listings Portal
Real Estate 100 Awards
2023
Best Property Listings Portal
Digital Tech 100 Awards
2023
Gold Winner, Best Real Estate Marketplace
Kenya E-commerce Awards
Our People

Over 35 people work towards the goal to simplify the property search experience by being people-centric while leveraging the latest technology. Leading the team is Lizzie Costabir, the CEO of BuyRentKenya. A thought leader in Kenya's real estate sector, she is a regular keynote speaker at prominent industry events and is committed to women's empowerment through her involvement in Women in Real Estate (WIRE).
Customer Testimonials
Buyrent Kenya has helped my reach out to Kenyans in diaspora and to close deals amounting to more than K.Shs 44,000,000 (USD 293,333) in less than one year of joining the platform.

Michael James
Property Seeker
Interacting with BRK platform is seamless in regards to listing properties. The CRM is very useful in following up inquiries. Also, market insights in regards to pricing within different areas is very useful.
Karen Hapooch
Property Agent
The platform has gone along way in boosting our business

Mary Ingunyi
Property Seeker
BuyRentKenya offers more than just a property website with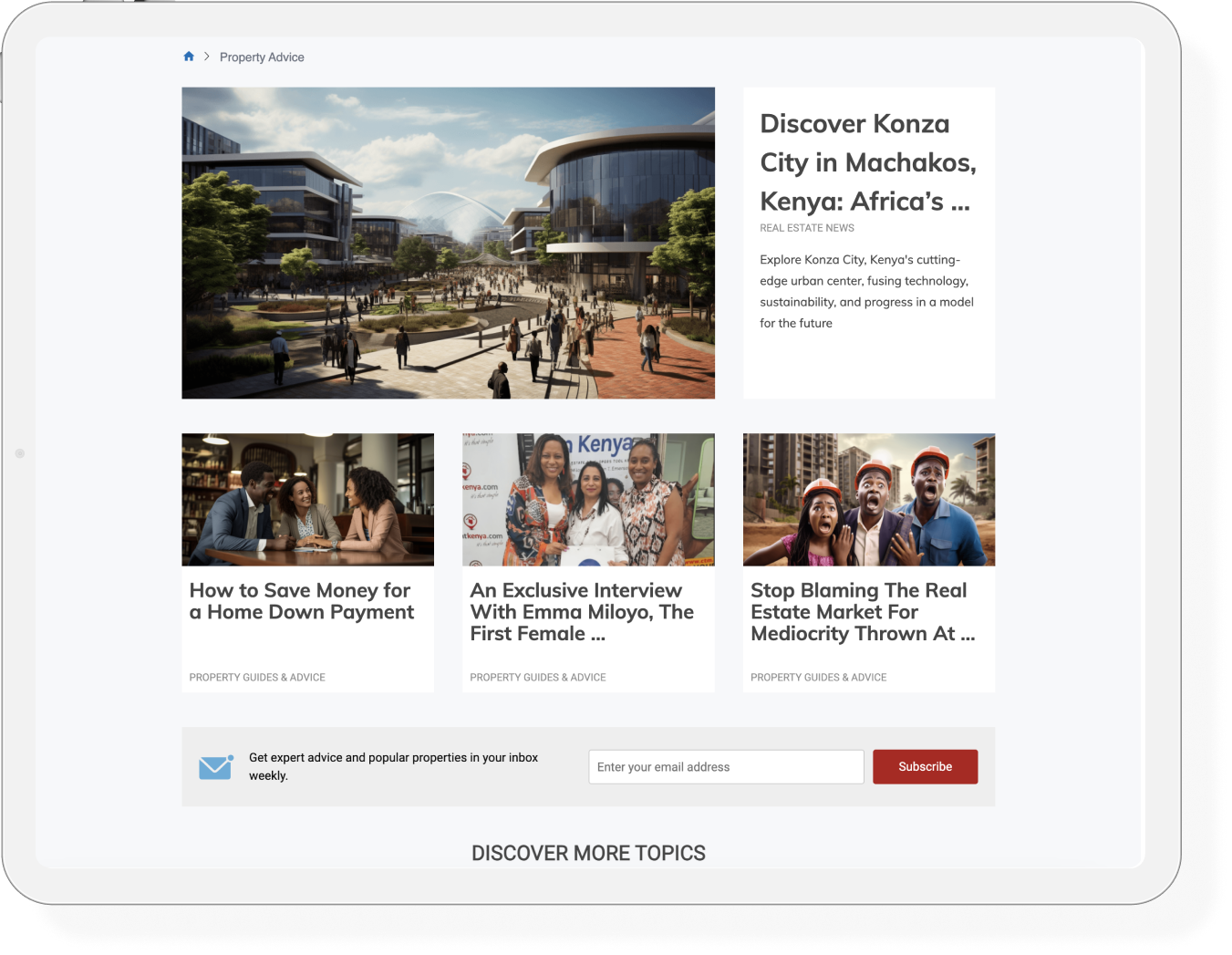 Property Advice
The BuyRentKenya blog is your go-to destination for all things real estate in Kenya. We understand that investing in real estate is a significant milestone in life, and we are here to guide you every step of the way. Whether you're in search of expert real estate advice, the latest trends in the market, or design and decor tips to transform your space, our blog is your ultimate resource. With the BuyRentKenya blog, you gain access to a wealth of knowledge, enabling you to navigate the real estate landscape with confidence and ease.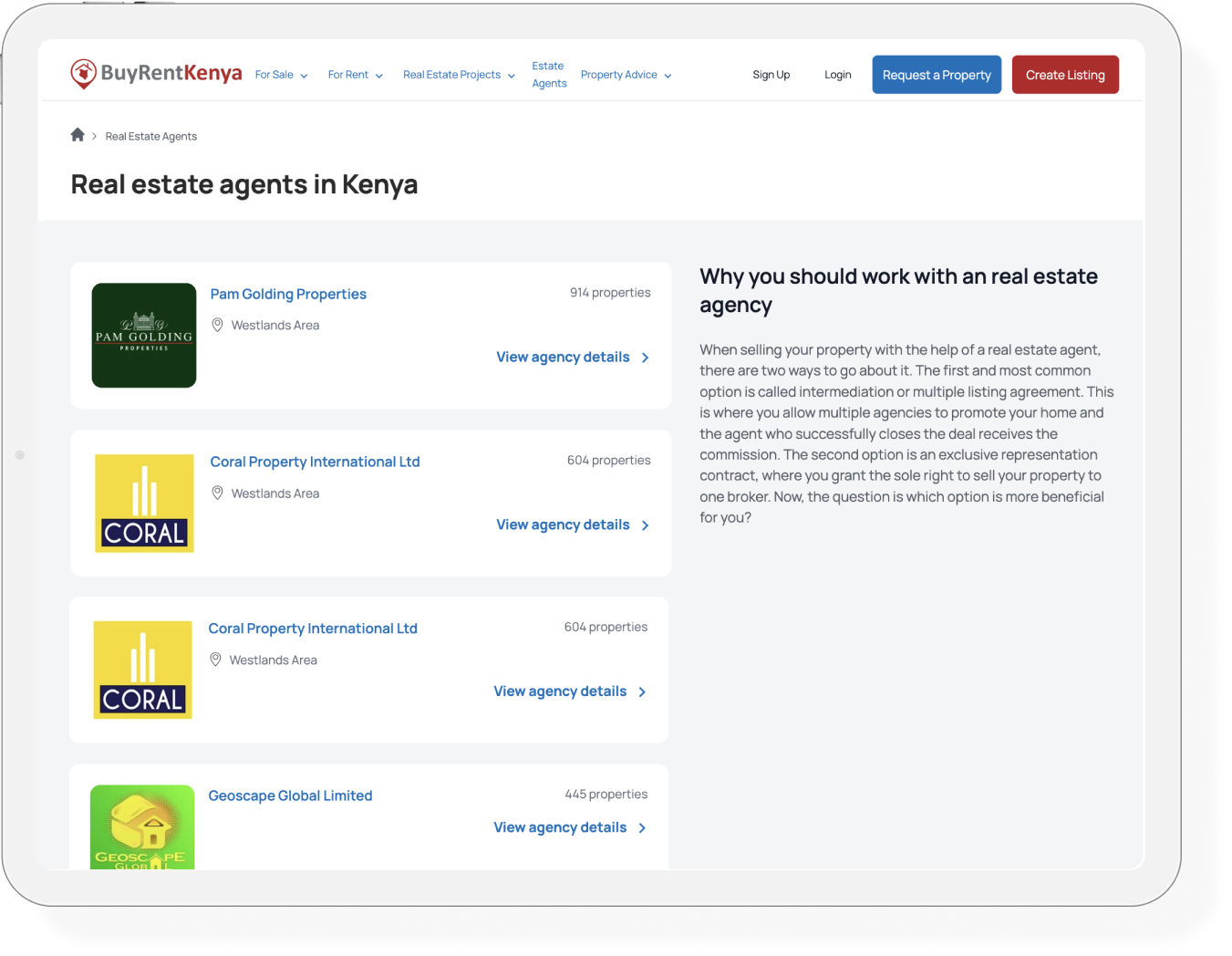 Agent Finder
Welcome to your gateway to finding the perfect real estate professional for your unique needs. Whether you're buying, selling, or investing, we've made the process of connecting with experienced and qualified agents simpler than ever.
Real Estate CRM
Our Real Estate CRM (Customer Relationship Management) is the heartbeat of our mission, designed to empower real estate professionals with powerful tools to manage, nurture, and grow their client relationships. With a commitment to excellence, we provide cutting-edge technology and unwavering support to help you achieve your real estate goals. Welcome to a smarter, more efficient, and highly effective way of doing real estate.
Get expert advice and popular properties in your inbox weekly.