Our Property Finance Services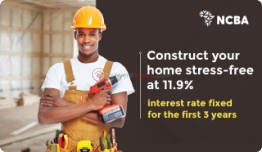 NCBA Easy Build
NCBA Easy Build is our property financing solution that enables you to have access to building plans and full professional services so that you can build your house without stress.
With the NCBA Easy Build solution, you enjoy:
Flexibility in selection of location
Customization of your home to your specific tastes, preferences and lifestyle
Flexibility in working within your budget
Reduced cost of homeownership as it is cheaper to build than to buy a house
Quality control as we provide you with approved experts to build your house
Instant property value appreciation upon completion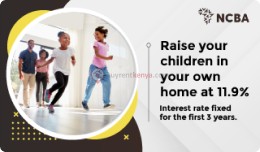 NCBA Mortgage Services
Competitive Mortgage interest rates Friendly loan terms
Loan repayment periods of up to 25 years. Mortgage loan facilities of the loan amount in local currency, 1.5 % of the loan amount in foreign currency
NCBA mortgage loans are offered in Kenya Shillings, Dollars, Pounds, and Euros.Regional Paradigm Technician
Up to 105% Financing of property value or market price whichever is lower
Maximum term of up to 25 years
Home loan Interest is calculated on a reducing balance basis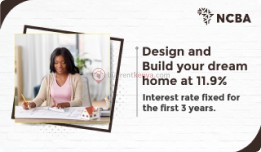 NCBA Buy and Build
Competitive property loan interest rates
Friendly loan terms
Flexible repayment periods
Access to expert advice from in house quantity surveyors
A dedicated Relationship Manager assigned to you
Dedicated Property centers
Minimum construction loan amount of KES. 3,000,000
Loans for construction have a maximum repayment period of up to 25 years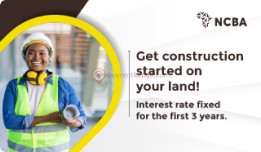 NCBA Plot Purchase
Loan facility fees of 1% of the loan value for local clients, and 2% for diaspora clients
Minimum loan amount is KES. 500,000
How it works
The process to owning your dream property is easy, seamless and broken down below
Fill in forms and submit requirements.

Form received and processed by NCBA Property Finance Team

NCBA send offer Letter, Fulfill conditions on the offer letter from NCBA

Valuation of Property: Done by an NCBA Approved valuer

Security Perfection/ Conveyance: Transfer of title and or Legal Charge on the title - Done by an NCBA approved lawyer

Disbursement: Release of funds to the vendor/borrower's account.

About Buyrent Kenya and NCBA Bank partnership
BuyRent Kenya has partnered with NCBA Bank to create a financial partner for you on our platform that brings you the best; from cutting edge mobile banking to good old-fashioned relationship management; from scalable Mortgage services and other financial services that grow as you grow; from the best-in-class choice of products to investment solutions tailored to your specific needs. As you find your next home on our platform, fill in the form above and a representative from NCBA bank will reach out to you.
Get expert advice and popular properties in your inbox weekly.